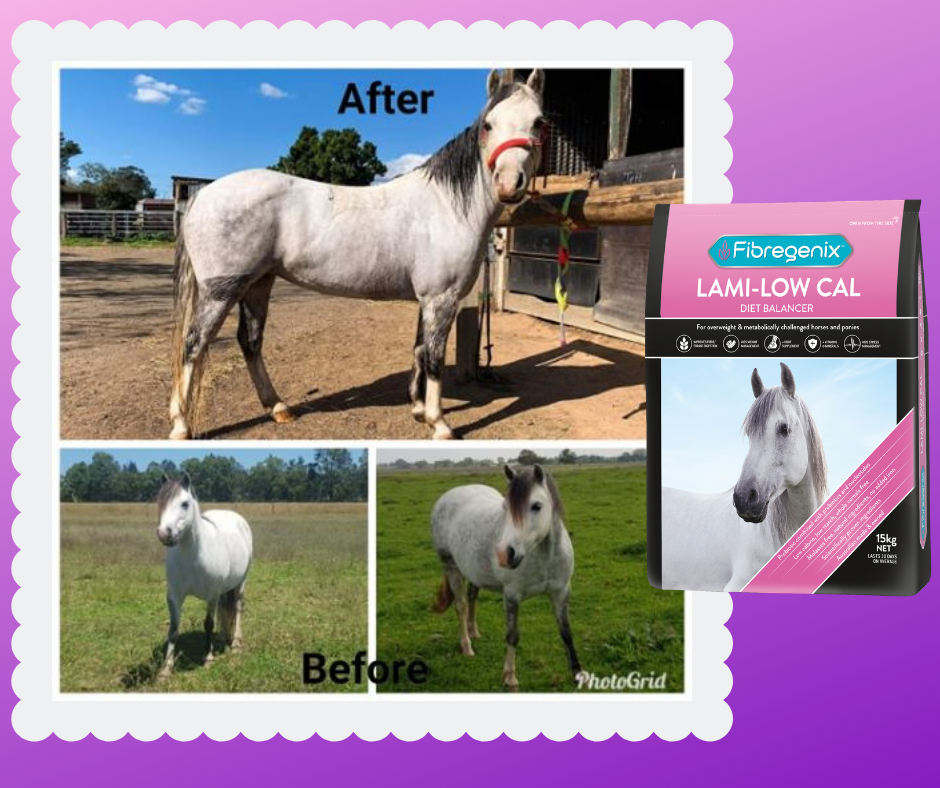 "My daughter's pony, Holly, has always been a heavy set lady but with Lami Low-Cal and a lot of hard work (on Holly's behalf) I finally have her looking amazing. 
Lami Pellets saved her….."
Kristy M, NSW
We understand how hard it is when you have a pony that's doing a bit too well for the good of their health. But with persistence and determination and the right dietary support, there is a healthy way to achieve great results. 
Adding Fibregenix Lami Low-Cal to the diet has helped this pony shed those extra kilos returning her to great health.
Q: HOW MANY SUPPLEMENTS ARE NEEDED TO ACHIEVE ALL THE ABOVE?
A: JUST ONE!! 
WHAT IS FIBREGENIX LAMI LOW-CAL? 
It's a specialist low calorie, low protein, high fibre balancer supplement that is specially formulated to help overweight horses and ponies that need lose weight. 
Lami Low-Cal fed in conjunction with regular exercise, supports restricted diets or when you need to feed a lower nutritional quality hay. Low Feeding rate – 100g/100kg of bodyweight.
HOW DOES IT DO THIS?
Provides a complete nutrient package of vitamins & minerals 
Provides a hoof improvement supplement plus MSM to help maintain healthy laminae and for the formation of the hoof wall.
Provides natural vegetable sources of Omega 3 and 6 along with organic zinc to ensure healthy skin and a glossy gleaming coat
Helps improve the immune system with its powerful combination of selenium, a protected form of vitamin C and natural vitamin E. 
Includes a premium live yeast probiotic to promote fibre digestion and create a stable & healthy hindgut environment
Provides Purified Nucleotides to support red blood cell formation, stamina, fitness and recovery levels, and assist in improving immunity.
Includes MOS & FOS prebiotics to reduce the risk of digestive upsets, assist with improving insulin sensitivity, remove pathogenic bacteria and increase the good bacteria in the gut.
No more over-supplementing – consolidate them into one easy to use product and save time making up feeds.  Low feeding rate (100g /100kg of bodyweight) makes it the most cost effective balancer supplement on the market.  We'll help take the weight off your mind (and your horse)
We help take the weight off your mind (and your horse) 
by blending nature and science to help bring your horse or pony back to optimum health. 
https://www.fibregenix.com.au/lami-low/