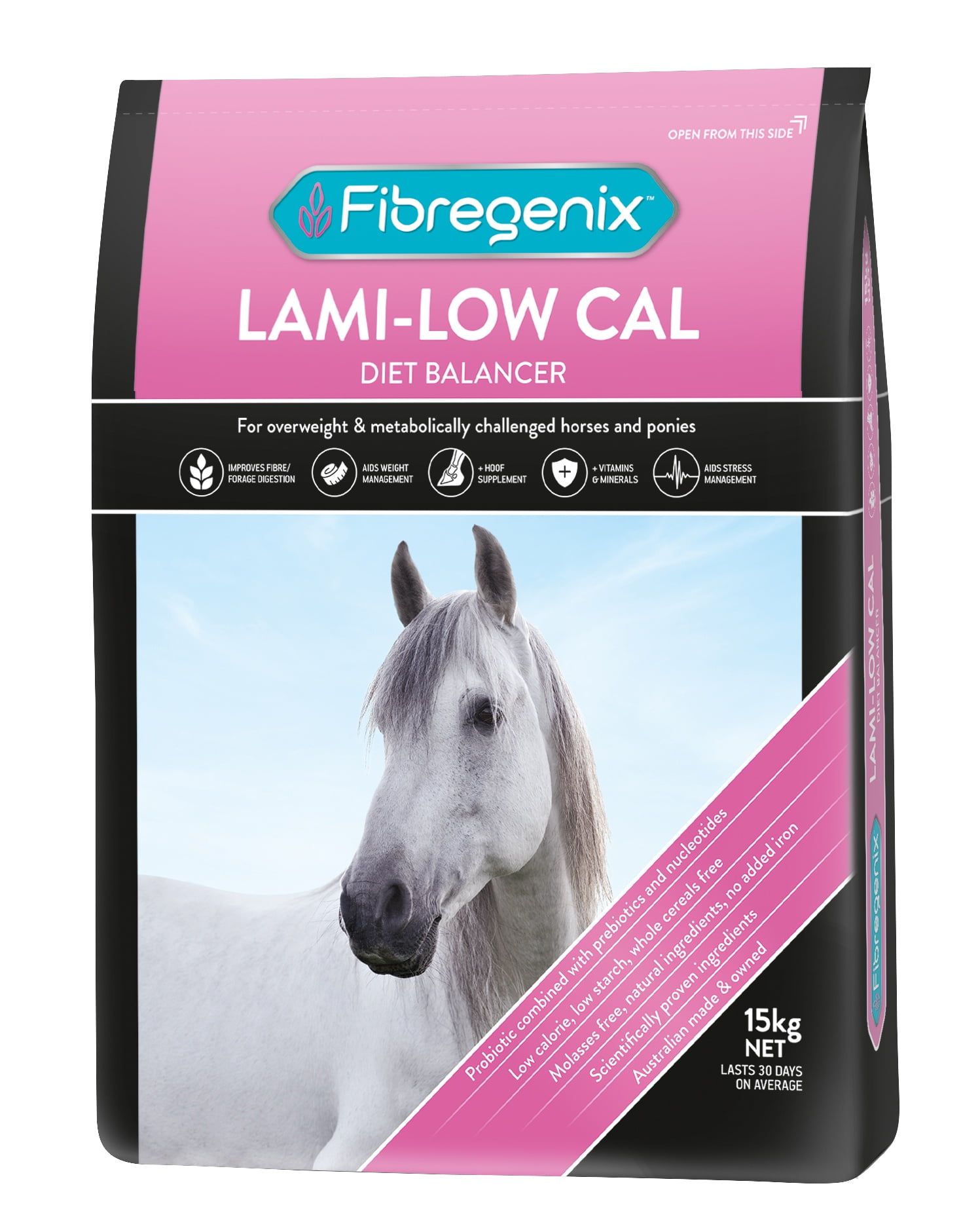 Fibregenix Lami Low-Cal is the best choice for overweight, good doers, laminitic and other metabolic challenges:
What you'll love: 
That it's free from whole cereals and molasses, low calorie and just 8.8% total NSC (starch and sugars)
That it's the ideal accompaniment to fibre diets for obese and metabolically challenged horses or ponies
That it's still looking after coat and skin health even though it's a low calorie product
That the hoof supplement contains MSM so it is working on the repair of internal hoof structures when damaged by laminitis
How effective the 4 digestive aids are for the control of acidosis and helping nutrient and feed utilisation and uptake.
The tasty small pellets will mean no more sifting out of expensive powdered supplements – your horse or pony will eat every scrap.
How much money you'll save by not having to buy a whole heap of other supplements to keep topline/condition on, improve hooves/coat/digestive function and more
What will surprise you:
How a small amount of Fibregenix added to your horse's feed has made such a huge difference
How even when on poor quality fibre diets, your horse or pony will still have an amazing shiny coat and healthy skin
How quickly you'll see the improvements
How much calmer your horse/pony is even if they have to be confined in a yard or stable for any reason
No more sloppy manure from stress
How well it enables recovery from debilitating metabolic problems
Helps to reduce the cresty necks and fatty pads
Noticeable improvements to his immune system
Still your horse – just better than ever!
What to feed with it: Any fibre feeds – hay, chaff, beet pulp etc,
No other supplements required. Think you've heard/seen it all? – you haven't tried a Fibregenix balancer then – Nothing similar is quite the same!
Add Lami Low-Cal to your horse's feed for around $2.49/day* 1 bags will last the average horse 30 days
LAMI LOW-CAL
For all overweight horses and ponies, good doers, laminitic or other metabolic conditions, confined to stable/convalescence
PROBLEM SOLVER
Managing the diets of overweight or laminitic horses and ponies is often a huge headache for owners. Neither category should be starved as this can lead to further issues such as ulcers or colic as well as mental stress.
Dietary restrictions however are often necessary which usually means that horses and ponies can be missing out on vital essential nutrients, and this is when Lami Low-Cal can play an integral part of the diet. Lami Low-Cal can bridge those nutritional gaps and the digestive enhancer and gut health packages included in the formulation will assist in reducing acidosis and stabilising the gut PH as well as improving forage digestion. This will keep your horse or pony replete with the nutrients needed on a daily basis to ensure he stays healthy. Lami Low-Cal is super low in starch and sugar and additionally contains no added iron so is ideal to feed to insulin resistant and Cushing's horses and ponies.
Many of us know the pain of trying to provide our overweight horses and ponies the right levels of nutrients when on a restricted diet; even worse when there are metabolic problems involved.
Our Lami Low-Cal bag cover pin-up boy is Dominante, a purebred Andalusian stallion who has been a good doer all his life so he needs his diet managing carefully to ensure he avoids metabolic problems.
Fibregenix Lami Low-Cal suits Dominante as it's specifically formulated to deliver a unique, low calorie, low protein, low starch and sugar, whole cereal & molasses free, high fibre formulation incorporating:-
digestive enhancement and gut health supplement

of MOS & FOS prebiotics and sepiolite, probiotic and nucleotides to help maintain healthy gut function and promote fibre digestibility

excellent levels of high-quality magnesium – research has proven that magnesium may play a vital role in assisting with insulin activity and reducing fat deposits
organic MSM – this has been added to the hoof improvement supplement for the formation and repair of healthy hooves
a blend of Omega 3 and 6 from linseed and sunflower with organic zinc for a glossy coat and healthy skin- these essential fatty acids have to be provided in the diet but the levels have been carefully balanced to promote coat and skin health without too many calories
a powerful combination of antioxidants – selenium, Vitamin C and natural Vitamin E
a complete broad-spectrum vitamin & mineral package
Take a look at the links below for even more information on why you should consider Lami Low-Cal as a valuable addition to your horse or pony's diet.
Lami Low-Cal and its Nutritional Role in Hoofcare and the Prevention of Laminitis
Feeding the Laminitic or Metabolically Challenged Horse or Pony
LAMI LOW-CAL
Feed at 100 g per 100 kg of body weight, do not exceed 200 g per 100 kg of body weight. Please weigh to check the amount. Introduce gradually over a week. Commence feeding with 100 g in the night feed. Feed as a single amount or over 2 feeds.
Example of typical feed regime for approx 500kg laminitic prone horse in light to moderate work with restricted access to pasture
500 g Fibregenix Lami Low-Cal mixed with some white chaff
8-10 kg low nutritional value hay or soaked hay for an hour prior to feeding, amount fed depends on if horse needs to lose weight or maintain current weight
200-400 g beet pulp – dry weight pre-soaking
Example of typical fibre feed regime for approx 500 kg horse with Cushing's in light/moderate work (eg showing/riding club activities/ low level dressage)
500 g Lami Low-Cal plus
6-8 kg hay, this must be of NSC value less than 10% – the lower the better,
1 kg plain chaff or mixture of chaff/beet pulp or any other fibre feed product.
NB: Hay, chaff, beet pulp etc amounts can be adjusted up or down depending on your horse or pony's current condition, pasture access etc. NO grain/sweet feeds of any kind.
Laminitic horse or ponies should not be starved, maintain slightly restricted fibre levels by feeding in slow feeder haynets.
General Analysis
Crude Protein 15%
Crude Oils & Fats 5%
Crude Fibre 20%
Starch 5%
Sugar 3.8%
Estimated Digestible
Composition
Wheat husks, Oat Hulls, Dehulled Soyabean Meal, Lucerne, Fibregenix Vitamin & Mineral Premix, Full Fat Soya, Limestone, Linseed Meal, Sunflower Meal, Dicalphosphate, Salt, MOS (Mannan Oligosaccharide) 0.4%, FOS (Fructo Oligosaccharide) 0.4%, MSM 0.25%, nucleotides 0.04%
NB: Wheat feed refers to outer husk of grain not whole cereals.
Vitamin & Minerals:-
Calcium 2.4% Sepiolite 8,000mg/kg
Phosphorus 0.8% Vitamin K3 4mg/kg
Magnesium 0.5% Pantothenic Acid 20mg/kg
Salt 0.18% Folic Acid 20mg/kg
Sodium 0.1% Vitamin B1 25mg/kg
Potassium 0.6% Vitamin B2 10mg/kg
Chloride 0.3% Vitamin B6 20mg/kg
Sulphur 0.2% Vitamin B12 80mcg/kg
Lysine 11.1 g/kg Biotin B7 30mg/kg
Methionine 3.3 g/kg Choline chloride 200mg/kg
Threonine 5.2 g/kg Cobalt 2mg/kg
Vitamin A 60,000iu/kg Copper 200mg/kg
Vitamin C 30mg/kg Manganese 300mg/kg
Vitamin D3 8,000iu/kg Selenium 2mg/kg
Vitamin E 250mg/kg Zinc 500mg/kg
Niacinamide 40mg/kg Iodine 2mg/kg
ADDITIVES INFORMATION
Trace Elements
Calcium iodate 3.1mg/kg
Cupric sulphate Pentahydrate 700mg/kg
Cupric Chelate of Glycine Hydrate 104mg/kg
Manganous Oxide 403mg/kg
Manganese Chelate of Glycine Hydrate 227mg/kg
Zinc Oxide 555mg/kg
Zinc chelate of Glycine Hydrate 384mg/kg
Sodium Selenite 2.2mg/kg
Selenium Enriched Yeast 454mg/kg
Cobalt Carbonate 3.8mg/kg
Digestibility Enhancer
Actisaf Yeast (S. Cerevisiae Sc47) 20 x 10⁹ CFU