The Ideal Hoof Abscess Treatment solution here.
Battling with Hoof Abscesses?
Seeking abscess treatment?
Take the sweat out of poulticing!
The most sensible and easiest way to protect hoof dressings when turning your horse out.
A Horsecrocz is hard-wearing, breathable and re-useable.  Easy to fit.
Available in Small, Medium or Large.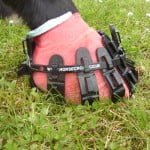 Equine Poultice Boot & Hoof Protection
SUPPORTED BY VETS & FARRIERS FOR THE USE ON:
• HOOF ABSCESSES
• PUNCTURE WOUNDS
• BRUISING
• LOST SHOES
• CRACKED HOOVES
Searching for an innovative product to protect your hoof abscess dressings? Then look no further! A Horsecrocz is for use over hoof dressings to protect them from scraping and general wear and tear.  It's ideal for abscess treatment when a poultice is applied, and can be reused many times making it a cost effective and affordable solution.
If your horse has lost a shoe, a Horsecrocz will keep the foot protected until the farrier comes.  This is especially useful if the horse is tender-footed. The flexibility of design allows three sizes to fit the majority of equines and is quick and easy to put on and remove.
The open design around the hoof wall increases flexibility and breathability, avoiding the build-up of moisture that commonly gets trapped with other types of protective coverings.
A positive feature of HorseCrocz is that they are robust enough to allow the horse to be turned out.
There is an additional benefit in the design of small holes in the sole which allows for liquid to be injected in to make a conforming hoof/sole support. This may be useful for vets or farriers during remedial foot treatments.
First Aid protection for the hoof sole
Easy and quick to apply
Robust – Can be reused many times
Flexible fit
3 sizes fit from a Shire to a Shetland
Open design allows hoof to 'breathe'
Horses can be turned out
Each pack come with x5 HorseCrocz Ties and additional ties can be purchased separately for future use. This first aid kit essential should be a 'must have' for every horse owner.
Fitting Guide
Measure hoof with the dressing on, across the widest part, the fitted Horsecrocz should have the tie fitted approximately 2/3rds of the way up the hoof.
150 mm thread tie through bottom tabs
180 mm thread tie through middle tabs
200 mm thread tie through top tabs
Thread tie through selected tabs with smooth side facing up. Starting with the slim tab nearest to the heel and finish with the wide tab at the back
Do not pull tie tight, allow enough diameter to allow placing over the hoof with dressing in place.
Place hoof into the Horsecrocz, fitting it so that the heel portion is resting against the bulbs of the heel.
If the tie is not already threaded through the fastener of the tie, do so now.
Pull the tie so the Horsecrocz is fitted securely.
Ensure that the Horsecrocz does not rest or place pressure on the coronary band.
Move the finger portions of the Horsecrocz so that the are evenly placed around the hoof
To remove the Horsecrocz, carefully cut the tie and remove.
Sizing Guide
Help you choose what size of HorseCrocz will be appropriate, we have produced a sizing guide for you, this is only meant as a guide as size of hoof with also depend on breed/type of horse. Hoof measurement taken side to side across the broadest part of the sole and add on ½ inch for the dressing .
First Aid protection for hoof sole
Easy and quick to apply
Robust Can be reused many times
Flexible fit
3 sizes fit from a shire to a Shetland
Open design allows hoof to 'breathe'
Horses can be turned out
| | |
| --- | --- |
| Horsecorcz Size | |
| Small | 12.2hh approx – hoof with dressing measuring 90mm – 125mm max |
| Medium | 12.2hh – 15.2hh approx – hoof with dressing measuring 115mm – 140mm |
| Large | 15hh up – hoof with dressing measuring 140mm – 205mm |
Ed and Pepe (16.3hh and 38", respectively) wearing our little and large HorseCrocz, they weren't friends at the start, but they are now…
Testimonials
Best of its kind
I have used this product and it is the best of its Kind. It holds poultices in place, keeps feet good awaiting the farrier after a lost shoe, and even stays on when turned out. I have used mine about 8 times and it is still going strong. Worth every penny.
– Taken from the Horsecrocz Facebook Page
Julie Lewis
Simply Brilliant
Just wanted to say how pleased I am with my Horsecrocz, and the fantastic service you provide. I ordered my large Horsecrocz on Monday morning at 11.50 am and, lo and behold, it arrived the very next day. I honestly don't know how I've managed without one before now, so easy to use and keeps dressings in place no problem. After use, I just wash it in a bucket of soapy water. Simply brilliant! Thank you
– Taken from the Horsecrocz Facebook Page
Anne Woolly
Easy to put on, and they stay on!
As a non-horsey person, these were golden when my wife left me to poultice the kids pony while she went off on holiday. It was easy to put on and I didn't have to worry about it staying on, just tied it on tight, no problems.
This happened before (she was at work that time) and I got in a mess with plastic bags and duct tape and then I'd bring in a pony with no poultice from the field at the end of the day. No more! The pony can't seem to get the Horsecrocz off, and I'm sure she tries. Thank you Horsecrocz.
David
Horsecrocz at work in Australia
'Used my first horse croc on old Kingo bit happy how easy they are to use ! People get on the these shoes they are ace !!'
(Taken from Horsecrocz Australia Page)
Tracey Mallia
'Wonder crocz'
That is what they should be called as I am left wondering how I ever managed without them!
They are so easy to use and I have found them brilliant in keeping everything in place for any foot treatment. My flat footed sporthorse is eternally grateful, as he can still be turned out while I am waiting for the farrier ( who was very impressed too) to come and re fit his thrown shoes!
Julie Lewis
Great service
Excellent service, received my order the next day. Much easier to use than what I was previously using for protecting any hoof dressings and it stayed on in the field too which  was great as my horse hates being in.
Would recommend.
Amy Walker
Roody Approves
Well after buying the large size at Blair, my old boy Roody appears to approve & his vet was very interested in Horsecrocz
(Taken from our Facebook page)
Pammy
Happy Mare
I bought this as a first aid item, my mare got 2 abscesses last winter and this was just the thing I needed. I haven't actually had to use it for that yet, but I used it when she lost a shoe recently.
She is very footery on hard ground/gravel without shoes and I had take her up the road to the stable. I thought I would try it out and I popped my Horsecroc on her, she was completely sound on the road, and the gravelled yard! I don't think she could quite believe it herself.
Fingers crossed I have no abscesses this year, but I am delighted with the product. Thank you!
Ashleigh
Worked a treat
Just bought one of these last week for my WB x. Was fed up wrapping up his hoof in Duct Tape to protect his poultice. Worked a treat, was a bit tricky to put on the first time but after that it has been so easy, turned him out into the field with it and it stayed on no problem. Horse is now poultice free and have put the Horsecrocz in the first aid box for the next time (which I hope won't be for a while). Will get some extra ties for the next use but there is hardly any wear on it apart from some scuff marks.
Helen Murray
Only use a Horsecrocz over a hoof that has been wrapped for horses having abscess treatment, that are on stall rest or for hand walking. NOT SUITABLE for riding or turnout. Use caution when walking a horse on wet or slippery surfaces, pavement and concrete. Only use this product with Horsecrocz ties as they have a predetermined breaking point, that loosens in case of emergency. 
EOFY 15% off limited
time