When your horse has joint issues or needs a helping hand with his stress levels, you want fast-acting, effective solutions, right? 
Your problem: With powder-form supplements, the powder needs dissolving before the nutrients are absorbed via the gut wall.
Another downside is many powder supplements taste bitter.  So your horse (who doesn't always appreciate what's good for him) will either sift the powders out of his feed or simply turn his nose up.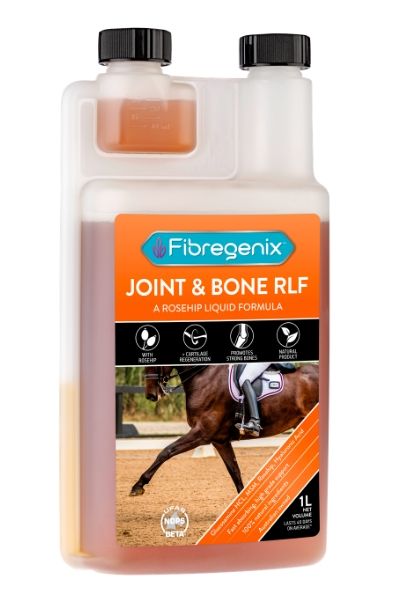 Fibregenix Joint & Bone RLF
Many joint supplements are restricted to one or two basic ingredients, which may be beneficial for some joint problems. Especially when it comes to liquid supplements. However, most don't offer a complete range of scientifically proven ingredients targetting specific areas and giving the horse maximum benefit.  Fibregenix Joint & Bone RLF is unique as it contains a comprehensive range of natural, human-grade, scientifically proven ingredients. These ingredients target the many varied causes of joint problems such as injury and arthritic issues. Additionally, it incorporates a cutting-edge bone supplement to promote strong, dense bone. This is required in both young developing horses and those in hard training. This is a extremely effective liquid supplement.
Ingredients: Rosehip (Rosa Canina), Hyaluronic Acid, Glucosamine HCL, MSM, Calcium Chelate and Vitamin D3
1 bottle will last 40 days at the recommended rate of 25 ml per day (maintenance)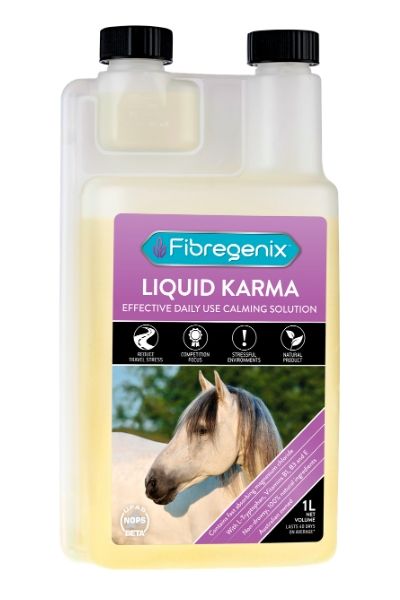 Fibregenix Liquid Karma
There are so many equine calmers on the market and choosing the most effective one for your horse can be challenging.
Fibregenix's scientifically advanced Liquid Karma can play a significant part in producing consistent improvements in temperament, trainability, and performance. It also doesn't compromise alertness This is an extremely effective liquid supplement safe to use on a wide range of horses and ponies. 
1 bottle will last 40 days.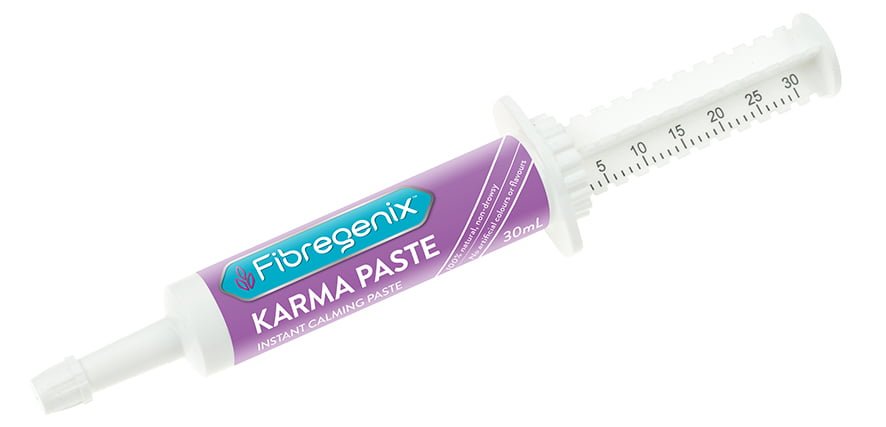 Fibregenix Karma Paste – calming on the go!
Sale: Buy 2 and get one free while stocks last
For best results feed one 15ml 'calm' approx. an hour before the stressful event and if required another 15ml half an hour before.
Fibregenix's calming paste is ideal for all horses and ponies and comes in a palatable natural liquorice flavour. Each easy to use syringe provides two 15ml serves and with no banned substances.
Contains fast-acting Magnesium Chloride, L-tryptophan and Vitamins B1, B3 and Vitamin E. All these provide a positive effect on the nervous system to assist in keeping a horse relaxed and settled. Karma paste syringes are:
Non-drowsy – Suitable for use in competition
100% natural – No artificial colours or flavours
Suitable for – Competing/Travelling/Stable confinement or any other stressful situation. This is a extremely effective liquid supplement.