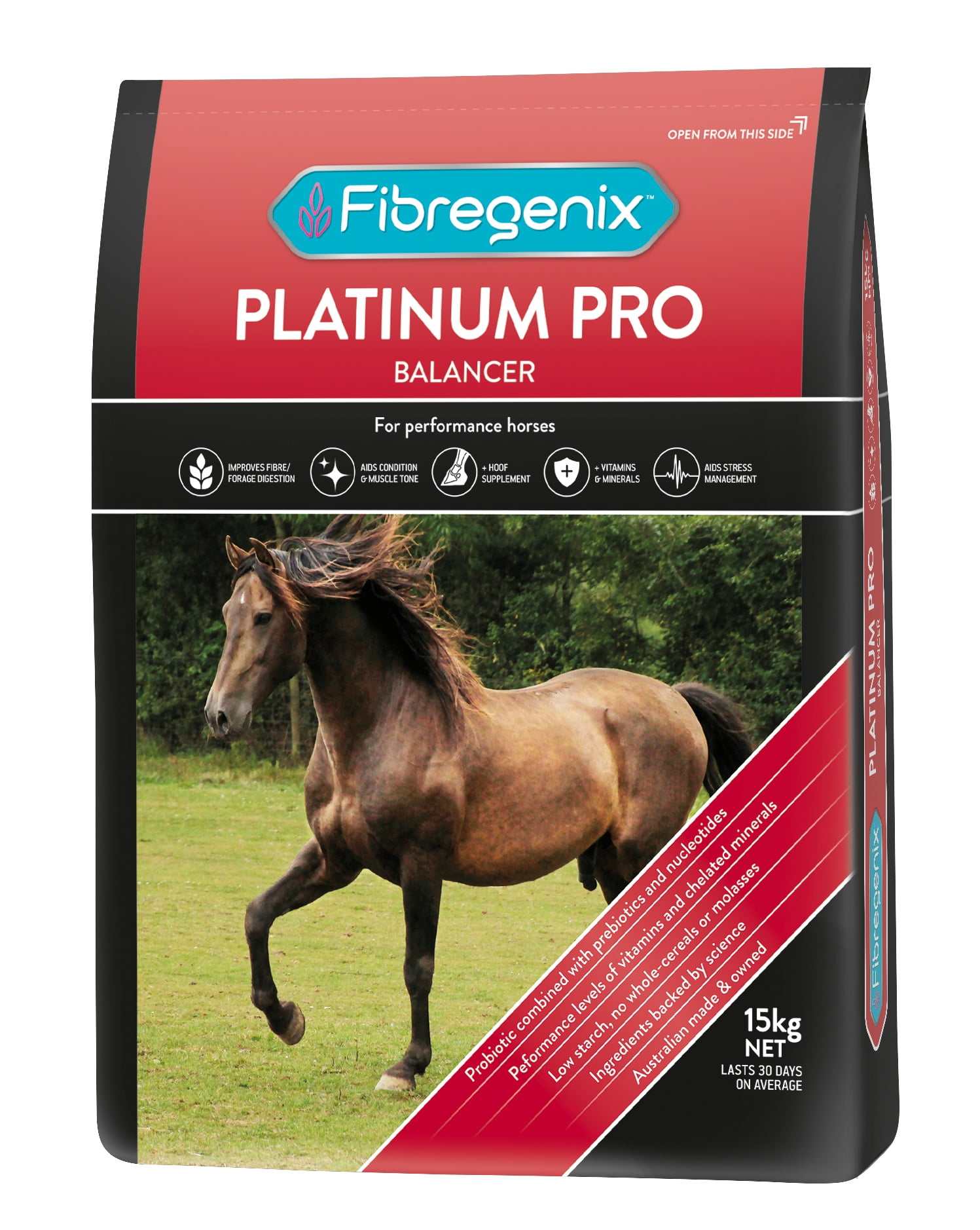 Fibregenix Platinum Pro is the best choice for competition and hardworking horses, for veterans and those with compromised digestive systems:
What you'll love: 
How much simpler and more effective your horse's diet becomes
The tasty small pellets will mean no more sifting out of expensive powdered supplements – your horse or pony will eat every scrap.
That it's free from whole cereals and molasses and super low in starch and sugars
How much money you'll save by not having to buy a whole heap of other supplements to keep topline/condition on, improve hooves/coat/digestive function and more
What will surprise you:
How a small amount of Fibregenix added to your horse's feed has made such a huge difference to his looks, vitality, recovery and performance
How much condition and topline your horse will put on and maintain even during the busy competition season
How quickly you'll see the improvements
How much calmer your horse is and how much better he copes with the stress of travelling/competing
No more sloppy manure from stress
Noticeable improvements to stamina, energy and better recovery
Noticeable improvements to his immune system
Still your horse – just better than ever!
What to feed with it: Any fibre feeds – hay, chaff, beet pulp etc, also your choice of grains, legumes, oil, or simply add to your horse's current hard feed if you aren't feeding the recommended daily serve. Feeding the recommended daily serve but worried about the impact it has on your horse's digestive system?
No problem, feeding Fibregenix Platinum Pro performance balancer enables you to cut down on hard feed which makes for a healthier, happier digestive system.  No other supplements required. Think you've heard/seen it all? – you haven't tried a Fibregenix balancer then – Nothing similar is quite the same!
Add Platinum Pro to your horse's feed for around $2.66/day* 1 bag will last the average horse 30 days
Fibregenix Platinum Pro is the best choice for feeding performance horses, veterans and those with compromised digestive systems such as ulcer prone, colics and scouring, and supports the gut during courses of medications such as antibiotics.
PROBLEM SOLVER: This is a technically advanced feed balancer that takes equine nutrition to a higher level. Its unique formulation delivers the optimum balance and level of each nutrient with a synergistic effect to promote optimum health and performance.
This means that if your performance horse has stamina issues, gets fatigued easily and could do with better recovery rates after performance; if you are looking to reduce issues with lactic acid build up and help him to cope with the stresses of travelling and competing then Platinum Pro will tick all those boxes and more!
Fibregenix Platinum Pro is our technically advanced feed balancer that quite simply takes equine nutrition to a higher level. As well as providing key nutrients to support hard-working horses, Platinum Pro also supports horses with compromised digestive systems such as ulcers, colic/colitis and scouring, and it also supports the gut during courses of medications such as antibiotics.  A veteran horse's ability to absorb and metabolise his nutrients diminishes with advancing age, so your golden oldie will also greatly benefit from the higher levels of nutrients in Platinum Pro.
Platinum Pro contains several supplements blended with fibre, oils and quality protein to promote muscle development and topline.
The supplements include:
a blood-building formula including B12 and folic acid
a balanced blend of Omega 3 and 6 essential fatty acids promoting healthy skin and a glossy, gleaming coat
a top-specification broad-spectrum vitamin and chelated minerals supplement
a highly effective hoof supplement
a powerful antioxidant package of selenium, a protected form of vitamin C and a natural form of vitamin E (five times more bioavailable than the synthetic form used in most other feeds or balancers) to assist natural immune defences.
a digestive enhancer package to promote fibre digestibility and maximise nutrient absorption (Actisaf yeast plus nucleotides) as well as stabilising PH levels in the hindgut
a gut health package to deliver a reduced risk of digestive upsets and aid in supporting the horse's immune system. (MOS & FOS Prebiotics)
Platinum Pro's unique formulation is an invaluable addition to any performance horse's diet.
Take a look at the links below for even more information:-
Feeding starch – finding the right levels for your performance horse.
Feed at 100 g per 100 kg of body weight, do not exceed 200g per 100kg of body weight. Please weigh to check the amount. Introduce gradually over a week. Commence feeding with 100 g in the night feed. Feed as a single amount or over 2 feeds.
Example of typical fibre feed regime for approx 500 kg horse in medium work
500 g Fibregenix Platinum Pro
1kg un-molassed conditioning chaff and/or 500 g – 1 kg beet pulp
Cold pressed Linseed Oil (as per manufacturer's recommended amount) or up to 250 ml
Ad lib quality hay
Option to additionally feed either whole oats or micronized barley at appropriate levels for the work being done if necessary, and at no more than 100 g per 100 kg of body weight in starch per meal to avoid starch overload in the digestive system. Avoid starch meals for horses with ulcers and provide energy from fats/oils and increased quality fibre.
*split between 2-3 feeds daily. Please note a minimum of 2% of total dry matter intake of your horses' body weight should be fed daily, that's 10 kg for a 500 kg horse.
Example of feed regime for approx 500 kg race horse in training
500 g Fibregenix Platinum Pro
2kg naked oats (assuming 50% starch) OR 4 kg racehorse mix (assuming 25% starch)
250 ml linseed oil introduced slowly AND/OR
1kg chaff
250-500 g beet pulp (dry weight pre-soaking)
7-9 kg early cut hay
General Analysis
Crude Protein 25%
Crude Oils & Fats 8%
Crude Fibre 10.0%
Starch 6%
Sugar 5.2%
Estimated Digestible
Composition
Wheat husks, Dehulled Soyabean Meal, Full Fat Soya, Lucerne, Oat Hulls, Fibregenix Vitamin & Mineral Premix, Linseed Meal, Limestone, Sunflower Meal, Dicalphosphate, Salt, MOS (Mannan Oligosaccharides) 0.4%, FOS (Fructo Oligosaccharides) 0.5%, Nucleotides 0.04%
NB: Wheatfeed refers to outer husk of grain not whole cereals.
Vitamin & Minerals:-
Calcium 1.8% Iron 330mg/kg
Phosphorus 0.8% Vitamin K3 4mg/kg
Magnesium 0.4% Pantothenic Acid 20mg/kg
Salt 0.5% Folic Acid 20mg/kg
Sodium 0.2% Vitamin B1 25mg/kg
Potassium 1.0% Vitamin B2 10mg/kg
Chloride 0.5% Vitamin B6 20mg/kg
Sulphur 0.3% Vitamin B12 80mcg/kg
Lysine 18.4 g/kg Biotin B7 30mg/kg
Methionine 5.0 g/kg Choline chloride 200mg/kg
Threonine 9.6 g/kg Cobalt 2mg/kg
Vitamin A 60,000iu/kg Copper 200mg/kg
Vitamin C 30mg/kg Manganese 300mg/kg
Vitamin D3 8,000iu/kg Selenium 2mg/kg
Vitamin E 350mg/kg Zinc 500mg/kg
Niacinamide 40mg/kg Iodine 2mg/kg
ADDITIVES INFORMATION
Trace Elements
Ferrous sulphate Monohydrate 666mg/kg
Iron chelate of Glycine Hydrate 454mg/kg
Calcium iodate 3.1mg/kg
Cupric sulphate Pentahydrate 700mg/kg
Cupric Chelate of Glycine Hydrate 104mg/kg
Manganese Chelate of Glycine Hydrate 227mg/kg
Manganous Oxide 403mg/kg
Zinc Oxide 555mg/kg
Zinc chelate of Glycine Hydrate 384mg/kg
Sodium Selenite 2.2mg/kg
Selenium Enriched Yeast 454mg/kg
Cobalt Carbonate 3.8mg/kg
Digestibility Enhancer
Actisaf Yeast (S. Cerevisiae Sc47 60 x 10⁹ CFU/kg